Controller Design Steps
Below are steps to design a controller for a system. An example is also provided.
Steps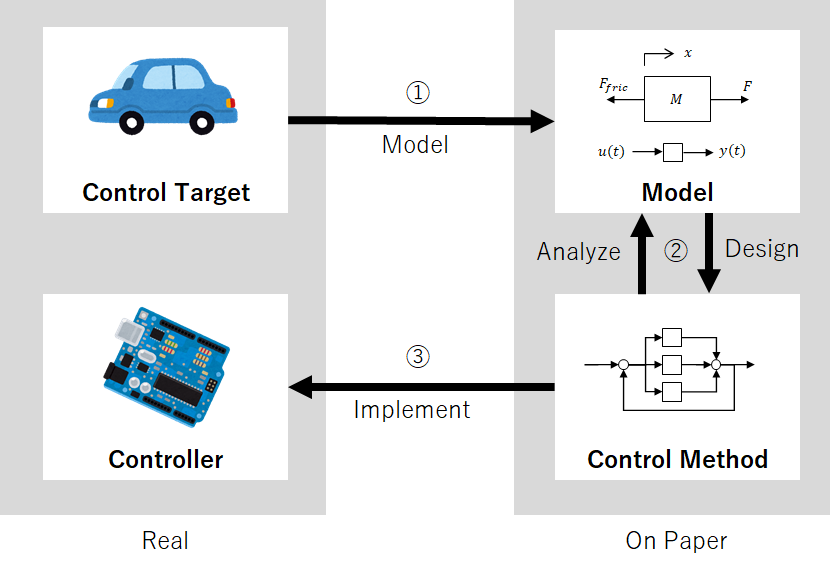 1. Modelling
Create a model. Express the real system on paper. The model should:
Capture the characteristics of the control target.
Be easy to analyze and design a controller for. Do not directly apply dynamics equations if it complicates analysis.
2. Design & Analysis
Study the characteristics of the control target using the model. Then, design a control method.
Applying different inputs and observe how the system behaves.
Find input, u(t), that result in the desired behavior.
Choose parameters that satisfy criteria specified in the design specification.
3. Implementation
Write code according to the previously determined control method.
Example
A car moves along a line. Design a controller that moves the car to y = 0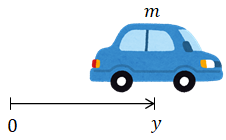 1. Modelling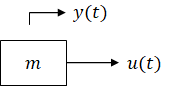 From Newton's second law:

2. Design & Analysis
Control the force by using the car's position and velocity as feedback (as an example):

Substitute into the model and solve for the position, y(t) because we want y = 0:

Where C1 and C2 depends on y(0) and ẏ(0) so we leave them.
λ1 and λ2 are:

The objective is y = 0 so we want,

So we want λ1, λ2 < 0
So choose k1, k2 > 0
3. Implementation
C code:
loop()
{
  y = get_position();
  vy = get_velocity();
  u = -k1 * y - k2 * vy;
  set_force(u);
}

Simulation:
from

 scipy.integrate 

import

 solve_ivp


import

 matplotlib.pyplot 

as

 plt




# Constants


m  =  1 

# Mass (kg)


k1 = 10
k2 =  3




# dx/dt = f(t, x)




# 




# t     : Current time (seconds), scalar




# x     : Current state, [y, vy]




# return: First derivative of state, [vy, ay]




def

 xdot(t, x):
    

# Controller (input, u)


    u = -k1 * x[0] - k2 * x[1]
    
    

# Dynamics (dx/dt = xdot = [vz, az])


    

return

 [x[1], u/m]


x0     = [5, 0] 

# Initial state, [y0, vy0]


t_span = [0, 5] 

# Simulation time (seconds), [from, to]






# Solve for the states, x(t) = [y(t), vy(t)]


sol = solve_ivp(xdot, t_span, x0)




# Plot z vs t


plt.plot(sol.t, sol.y[0], 

'k-o'

)
plt.show()