Transistors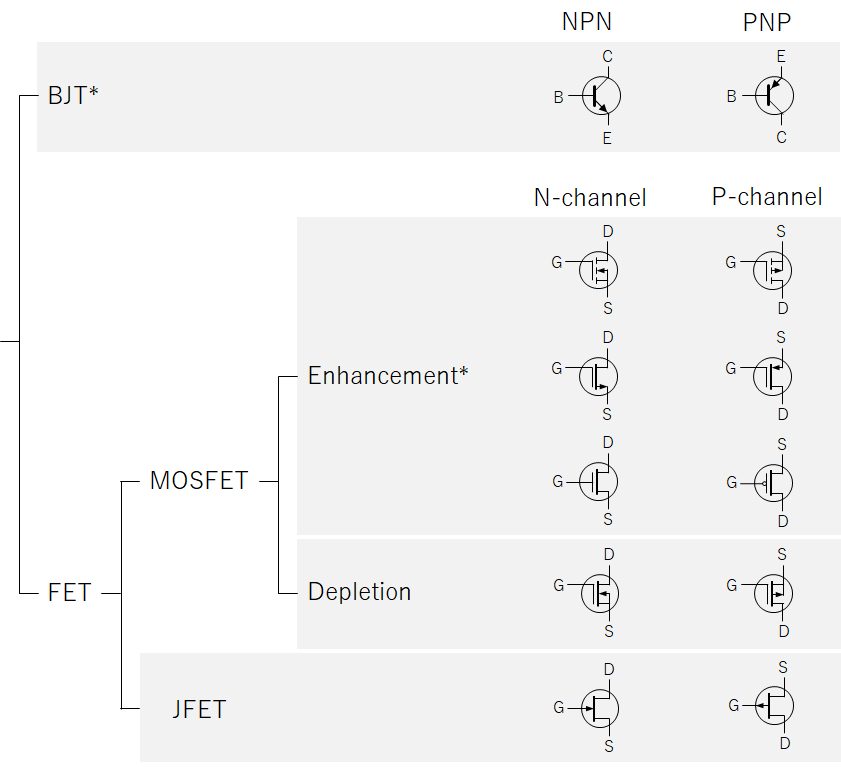 Current flows top to bottom (i.e. C to E for NPN, E to C for PNP, D to S for N-channel, S to D for P-channel).
Abbreviation:
BJT: Bipolar Junction Transistor
FET: Field Effect Transistor
MOSFET: Metal Oxide Semiconductor Field Effect Transistor
JFET: Junction Field Effect Transistor
C: Collector
B: Base
E: Emitter
D: Drain
G: Gate
S: Source
BJT vs MOSFET
BJT and enhancement mode MOSFET are more common in mechatronic applications so they are discussed specifically. These are deciding factors between the two:
BJT
Works with small control voltages (< 3V).
Cheaper than MOSFET.
MOSFET
Works with little control current.
Does not require base resistor like BJT.
Low voltage drop (< 0.1V) across switch.
Lower power dissipation (more efficient) than BJT.
MOSFET Logic
N-channel (NMOS)
VG − VS < thresholdGS
VG − VS > 4.5V
P-channel (PMOS)
VS − VG > 4.5V
VS − VG < thresholdSG
BJT Logic
NPN
VB − VE < 0.6V
VB − VE = 0.6V
PNP
VE − VB = 0.6V
VE − VB < 0.6V